SP 35
mm

F/1.4

Di USD
(Model F045)
Art is subjective. Performance isn't.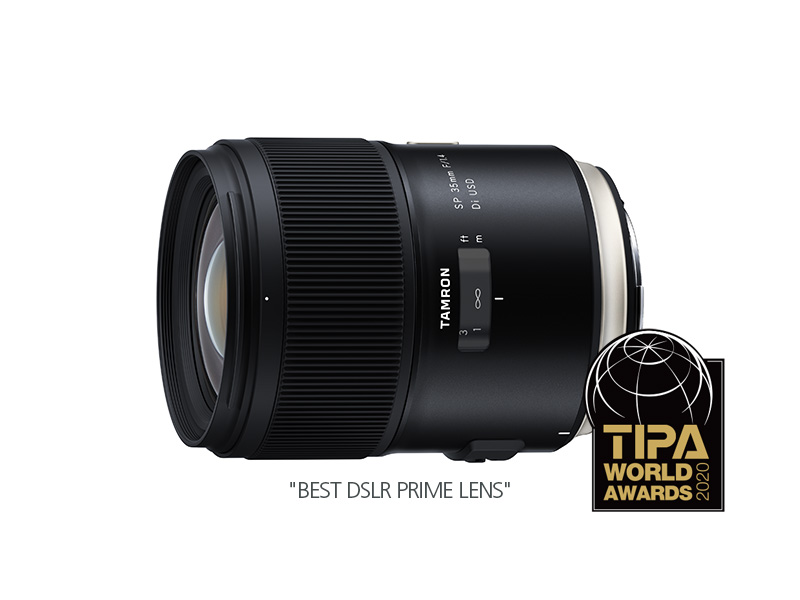 Bringing it all together for that single shot
For the first time, a dedicated portrait lens that allows you to zoom through various composition options as the creative ideas zoom through your head. "We want to deliver a perfect image to people who love photography." That's our obsessive goal for all Tamron lenses. This goal forms the basis of our concept for the SP 35mm F/1.4 Di USD (Model F045). The exceptional image quality of this fast fixed focal lens makes it worthy of being the lens that marks the milestone 40th anniversary of the SP (Superior Performance) Series. Uncompromising resolution at wide-open aperture combines with a velvety bokeh defocus blur that gently blends away from the ultra-sharp focus area. Ghosting and flare are suppressed to the utmost degree by the newly-developed BBAR-G2 (Broad-Band Anti-Reflection Generation 2) Coating. Additionally, our new and exclusive Dynamic Rolling-cam mechanism enables the heavy F/1.4 focusing unit to move with incredible accuracy at high-speed and deliver the best AF performance in every shooting situation. Truly, the Model F045 is the distillation of all of the optical technologies and manufacturing knowhow that Tamron has developed.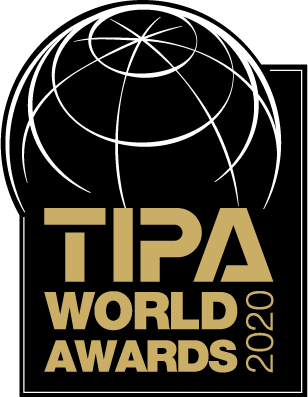 Tamron is proud to announce the SP 35mm F/1.4 Di USD (Model F045) has been awarded "BEST DSLR PRIME LENS" by the Technical Image Press Association (TIPA) at the prestigious TIPA Awards 2020.
Optical performance that defines the ultimate Tamron lens ever made
We endeavored to achieve ultra-high quality where every shape is captured with perfect fidelity. So we meticulously eradicated any optical aberrations that could reduce image quality. In particular, we have eliminated the on-axis chromatic aberrations that plague fast-aperture lenses, and the sagittal coma flares that reduce peripheral image quality. This is accomplished by deploying 14 elements in 10 groups, a dense arrangement for a fixed focal lens. The optical construction includes a generous arrangement of special glasses, four LD (Low Dispersion) lens elements and three GM (Glass Molded Aspherical) lens elements.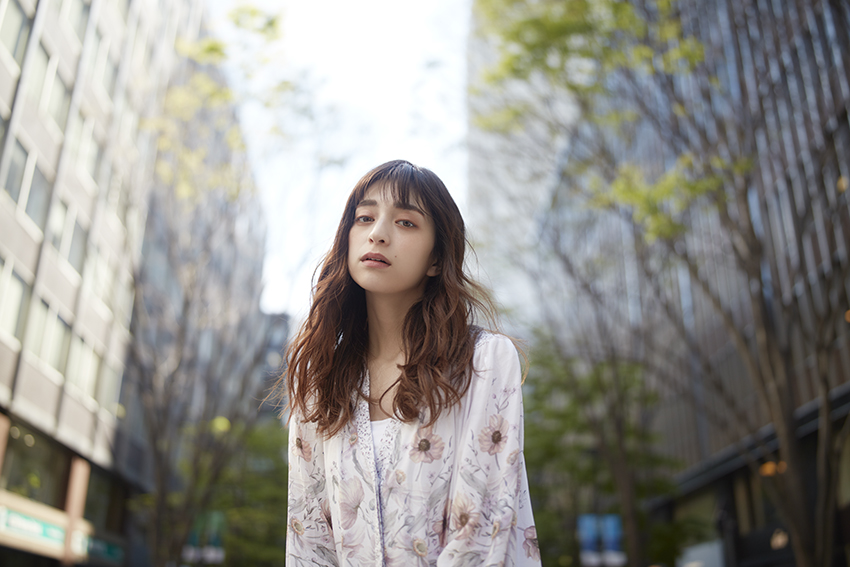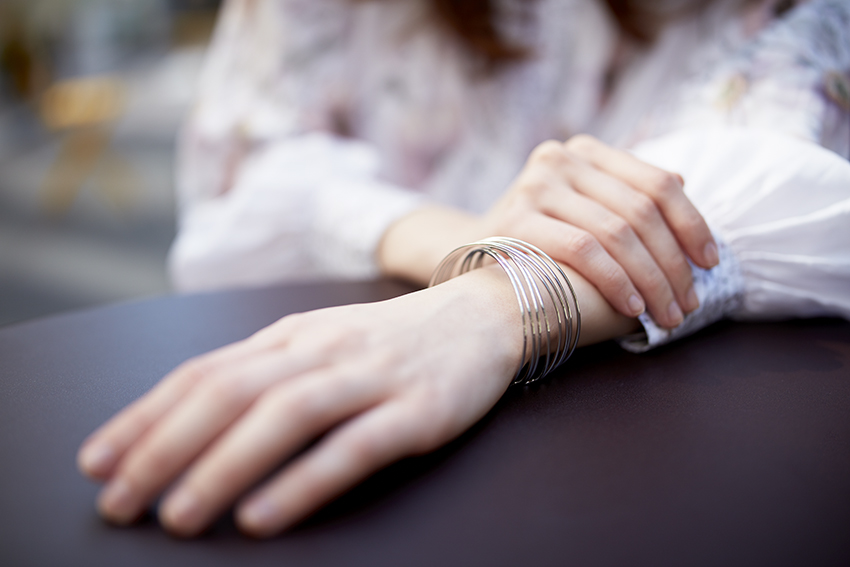 Leveraging Tamron's experience creating beautiful bokeh
The Model F045 produces genuinely beautiful bokeh defocus blur both in front of and behind the plane of focus, a characteristic shared with Tamron's legendary 90mm F/2.8 macro lens. The major difference is the fast F/1.4 aperture. Normally, as the lens aperture opens subtle on-axis chromatic aberration appears as color fringe. So we created a countermeasure to thoroughly overcome these deficiencies and produce bokeh that blends in beautifully without introducing aberrant color in front of or behind the focal plane.
Newly developed BBAR-G2 Coating delivers stunning clarity and contrast
Tamron has long been an innovator of coating technologies that prevent ghosting and flare. Second-generation BBAR-G2 Coating is a groundbreaking advancement that provides vastly improved performance compared to the original BBAR (Broad-Band Anti-Reflection) Coating. The coating corrects for ghosting and flare to an unprecedented extent, and renders fine subject detail with true clarity and stunning contrast even under backlit conditions.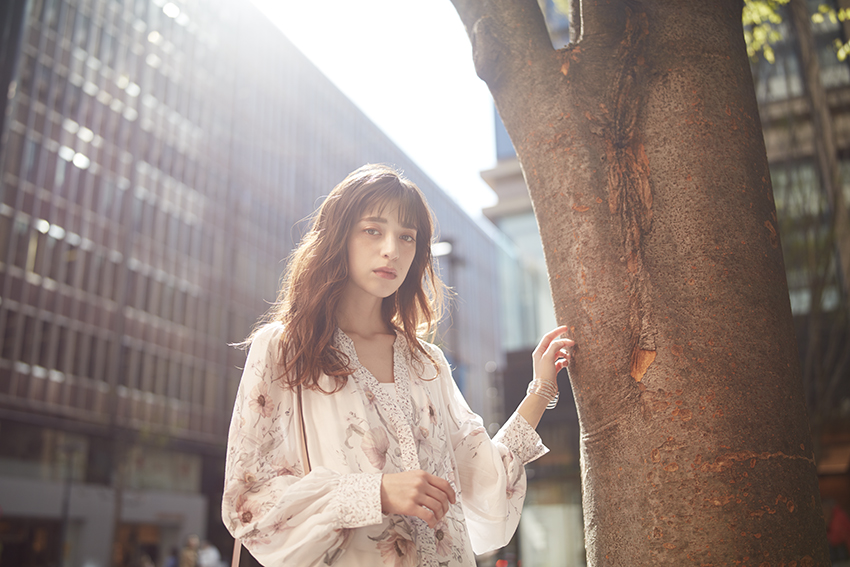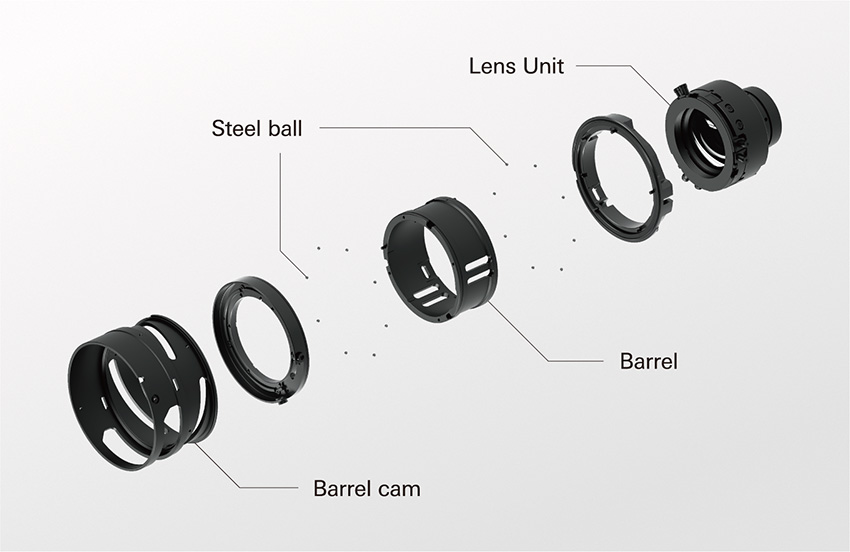 Exceptionally reliable, fast and accurate AF that unleashes creativity in every situation
The AF drive is equipped with Tamron's proprietary USD (Ultrasonic Silent Drive) motor. Additionally, Tamron's all-new Dynamic Rolling-cam mechanism mechanism operates the heavy focusing unit of the large F/1.4 aperture with high speed and accuracy. This breakthrough ensures stable AF performance and improves reliability even under the harsh shooting conditions of professional use, including high and low temperature extremes. This exceptional lens is also equipped with a Full-Time Manual Focus override system so photographers can instantly make fine adjustments to the point of focus, even in the AF mode.
Tamron's vision for the development of the ultimate lens
Thanks to our valued customers who are lovers of photography, Tamron is celebrating the 40th anniversary of the release of the first five SP series lenses. Tamron has long pursued the development of the "ultimate lens" based on the conviction that, "We want to deliver a perfect image to people who love photos," our creed for all Tamron lenses. One of our answers to fulfill this ambition is the SP series of lenses that balances advanced optical performance with ergonomic, maneuverable bodies. No matter how well a lens performs, it's useless if it's not on hand when you want to shoot. We believe that a lens can't be something that the photographer hesitates to bring along.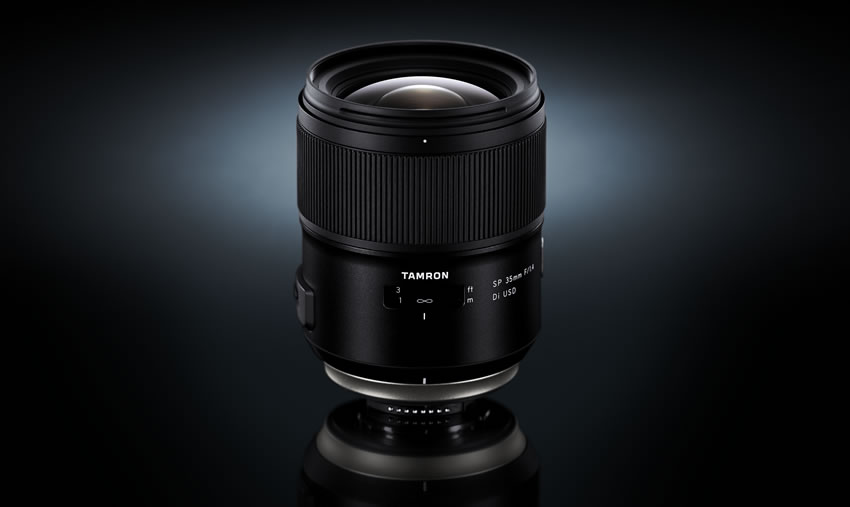 On the other hand, if we said there is no allure to pursuing the ultimate in lens performance disregarding the bounds of body size, we'd be lying. We wanted to know what kind of lens would result if we focused Tamron's technologies purely on lens performance in pursuit of image quality. This is yet another answer to the question of what constitutes the "ultimate lens." This is the kind of lens we wanted to create to mark the milestone 40th Anniversary of the SP series. What we decided on is the 35mm F/1.4.In a market packed with excellent lens offerings from various companies, Tamron has accepted the ambitious challenge of producing its greatest lens. Tamron's optical design staff was given a single instruction from product planning: aim for the absolute ultimate in lens performance. Their answer was a lens that thoroughly eliminates optical aberrations so that each point light source is faithfully depicted. This is a dream for any optical designer. With the new mechanism developed especially for the Model F045, the reproduction of the bokeh qualities for which Tamron is known, and the development of new coating technologies, all of Tamron's technical competence has been compounded to finally complete the finest lens in Tamron's history. This is Tamron's pride and joy. We invite you to experience its performance for yourself.
Compatible with TAMRON TAP-in ConsoleTM, an optional accessory
The optional TAP-in Console™ provides a USB connection to your personal computer, enabling you to easily update your lens's firmware as well as customize features including fine adjustments to the AF.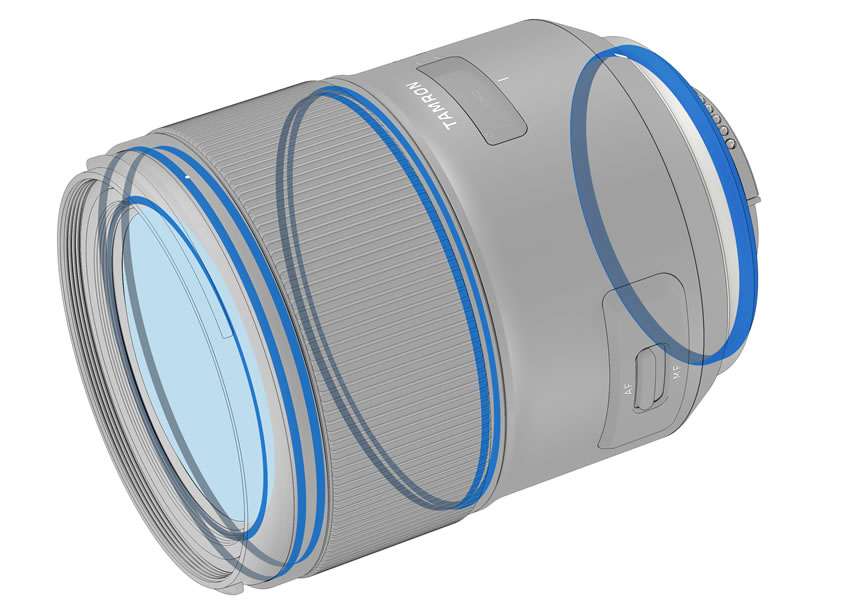 Moisture-Resistant Construction
For greater protection when shooting outdoors, leak-resistant seals throughout the lens barrel help protect your equipment.
Specifications
| | |
| --- | --- |
| Model | F045 |
| Focal Length | 35mm |
| Maximum Aperture | F/1.4 |
| Angle of View (diagonal) | 63゜26′(for full-frame DSLR cameras) |
| Optical Construction | 14 elements in 10 groups |
| Minimum Object Distance | 0.3m (11.8 in) |
| Maximum Magnification Ratio | 1:5 |
| Filter Size | Φ72mm |
| Maximum Diameter | Φ80.9mm |
| Length* | 104.8mm Canon (4.1 in) 102.3mm Nikon (4 in) |
| Weight | 815g Canon (28.7 oz) 805g Nikon (28.4 oz) |
| Aperture Blades | 9 (circular diaphragm)** |
| Minumum Aperture | F/16 |
| Standard Accessory | Flower-shaped hood, Lens caps, Lens pouch |
| Compatible Mounts | Canon EF mount, Nikon F mount |
* Length is the distance from the front tip of the lens to the lens mount face. ** The circular diaphragm stays almost perfectly circular up to two stops down from maximum aperture.
Specifications, appearance, functionality, etc. may be changed without prior notice. All DSLR camera functions are possible when the Model A043 is attached to a mirrorless camera via the manufacture's adapter.
MTF

Optical Construction (14 elements in 10 groups)