SP 150-600
mm

F/5–6.3

Di VC USD G2
(Model A022)
You're never too far from a great close-up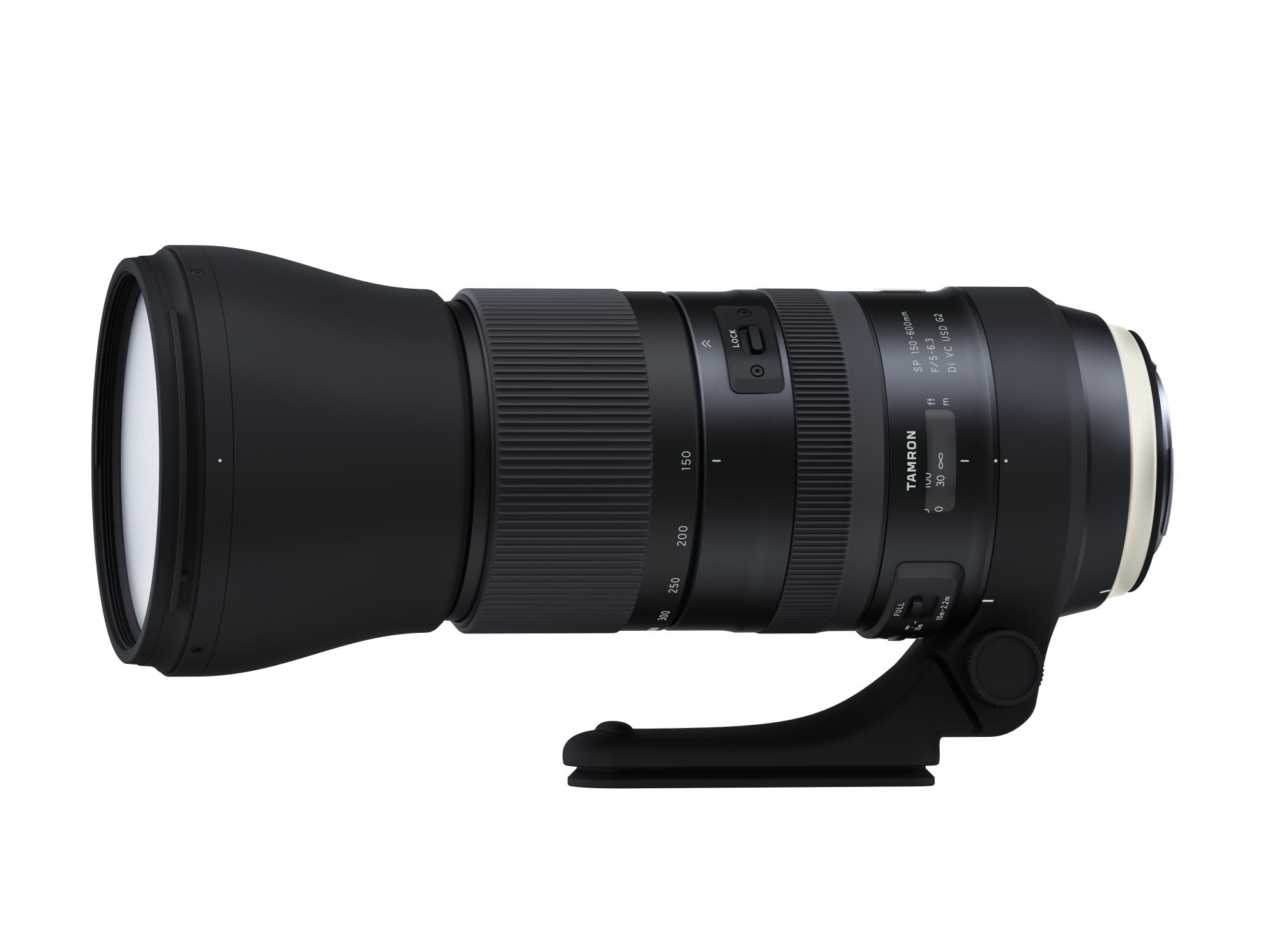 Discover the next-generation ultra-telephoto zoom lens from Tamron
World acclaimed ultra-telephoto zoom reborn; meet the all-new next generation.
The SP 150-600mm G2 (Generation 2) ultra-telephoto lens with upgraded optical performance enables handheld shooting with remarkable definition. Building upon the success of the SP 150-600mm F/5-6.3 Di VC USD (Model A011), this lens features better overall optical performance and faster AF speed, VC enhancements, plus Fluorine Coating, FLEX ZOOM LOCK and optional teleconverters.
Rebuilt from the ground up to meet Tamron's strict quality standards and design specifications, this zoom combines smart engineering and high performance with quality craftsmanship, durability and user friendliness.
The pursuit of functional beauty is applied to every aspect of the new ultra-telephoto zoom
This design philosophy in pursuit of functional beauty with a "human touch" is applied even to minute details for the SP 150-600mm G2 ultra-telephoto lens as well.
This second-generation 150-600mm provides new levels of comfort and ergonomics. The curved surfaces of the front portion of the lens fit comfortably in the palm of a photographer's hand. The focus and zoom rings feature optimal groove width, the focus limiter switch allows for easy operation, and the grip is compatible with the Arca-Swiss type quick release system. The smoothly curved lens hood is designed for easy attachment and removal from the lens barrel. While using metal as the exterior material and adding new functions such as the FLEX ZOOM LOCK mechanism, the SP 150-600mm G2 achieves a size and weight making comfortable handheld shooting possible, with a slim and stylish appearance design.
Keep it steady with improved VC
Three new modes stabilise camera blur for sharp images in low light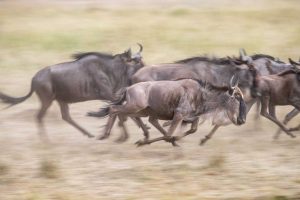 Focal length: 375mm | Exposure: F/7.1 1/80 sec ISO100 | Image by Ian Plant
The VC (Vibration Compensation) in the Model A022 effectiveness is equivalent to 4.5 stops*. The lens introduces three types of VC modes, selectable according to the situation, such as when the camera is being panned during the shot.
The improved VC minimises blurring caused by slight camera movement, which is prevalent with long telephoto lenses and even more apparent with higher-resolution cameras. VC enhances the freedom of hand-held shooting at slower shutter speeds required by low-light conditions such as dusk.
VC MODE 1 is the standard mode that strikes a great balance between the stability of the viewfinder image and the stabilisation effects.
VC MODE 2 is exclusively used for panning.
VC MODE 3 prioritises the stabilisation of the captured images and forgoes the stabilisation of the viewfinder image.
With the optional accessory TAMRON TAP-in Console™, you can custom the configuration of VC MODE 1. Choose the viewfinder view of either Standard or viewfinder image priority.
*Based on image stabilisation performance levels established by CIPA (Camera & Imaging Products Association) when using in VC MODE 3.
Ultrasonic Silent Drive
'Travelling waves' generate a fast, smooth AF movement
This extremely quiet motor is ideal for photography of events, weddings, theatre or musical performances, as well as crucial moments on the golf course – any situation where autofocus noise is obtrusive. Major improvements in autofocus response and tracking ability over standard DC motors make for instantaneous focusing and spontaneous shooting of rapidly moving subjects.
Watch this feature in action on our YouTube channel
Tamron's USD works with the high-frequency ultrasonic vibrations that are produced by a ring called a 'stator'. Energy from the vibrations is used to rotate an attached metallic ring known as the 'rotor'. Piezoelectric ceramic is a material that produces ultrasonic vibrations when voltage of a specific frequency is applied is arranged in a ring formation on the stator. This electrode configuration of piezoelectric ceramic causes two ultrasonic vibrations to occur in the stator. By effectively combining these two ultrasonic vibrations, it is possible to convert the energy from the vibrations that produce simple motion into energy known as 'deflective travelling waves', which move around the circumference of the ring. The friction between these deflective travelling waves created on the metallic surface of the stator and the surface of the rotor produces force, causing the rotor to rotate. Attached to the rotor is the focusing lens, which is given a fast, smooth autofocus movement.
In the Model A022, speed is significantly improved from its predecessor, enabling accurate high-speed focus even when capturing moving subjects.
Fine manual focus adjustments can be made quickly and easily
The USD motor is complemented by direct manual focus) to enable manual fine-tuning after autofocusing if and when necessary. No need to engage a switch – just gently rotate the focus ring on the lens.
Two exclusive new teleconverters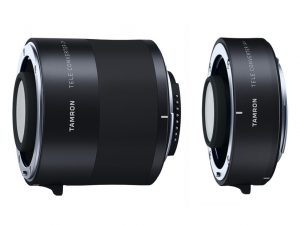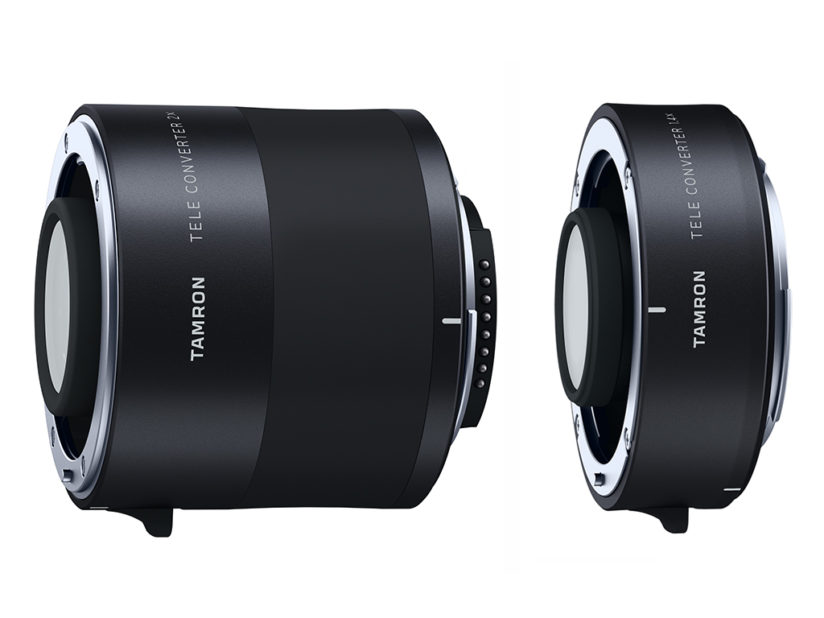 Two exclusive teleconverters, matched to the optics of the new SP 150-600mm G2, offer 1.4x and 2.0x magnification and provide a maximum zoom range up to 1200mm. These new teleconverters extend focal length of the master lens, making it possible to take pictures in farther ultra-telephoto ranges.
FLEX ZOOM LOCK mechanism enables zoom lock at any position
This mechanism quickly locks or unlocks the zoom at any position simply by sliding the zoom ring. Photographers can shoot from any angle without the zoom extending unintentionally. Additionally, the customary Zoom Lock switch prevents unwanted barrel extension during transportation.
More ergonomic tripod mount
A new textured grip and Arca-Swiss style tripod interface enhance both speed and utility. And because the tripod mount is made of lightweight magnesium, it is much easier to carry.
Fluorine Coating for protection and safe cleaning
The front surface of the lens element is coated with a protective fluorine compound that is more repellent to water and oil. The lens surface is easier to wipe clean and is less vulnerable to the damaging effects of dirt, dust, moisture and fingerprints.
Image illustrates resistance to grime (oil-based felt marker)
Left side: Without Fluorine Coating
Right side: With Fluorine Coating
Moisture-resistant construction protects your lens
For greater protection when shooting outdoors, leak-proof seals throughout the lens barrel help protect your equipment.
Compatible with the TAMRON TAP-in Console™
The optional TAP-in Console™ provides a USB connection to your personal computer, enabling you to easily update your lens's firmware as well as customize features including fine adjustments to the AF and VC.
Intuitive design plus cutting-edge performance
The new design adopted for the four fixed focal lens models in the SP series is essentially a fusion of engineering and style, in pursuit of functional beauty and craftsmanship by paying thorough attention to minute details. Featuring metal as the exterior material, the high-grade design concept emphasises "human touch" characteristics, resulting in considerably improved user-friendliness.
Those SP models feature a new design for the switches, easy-to-read characters, an enlarged window over the distance scale, and the adoption of organic forms easily gripped by the photographer.
The SP 150-600mm G2 includes three LD (Low Dispersion) lens elements which completely eliminate axial and transverse chromatic aberrations. It also features upgraded optical construction (21 elements in 13 groups). Anti-reflection technologies, eBAND (Extended Bandwidth & Angular-Dependency) Coating and BBAR (Broad-Band Anti-Reflection) Coating improve light transmission and suppress internal reflections, including light reflected off the camera's image sensors. So even when taking a backlit or semi-backlit photograph, ghosting and flare caused by reflected light are fully eliminated.
Low Dispersion
Sharpens edges by reducing 'colour fringing'
Chromatic aberration occurs when a lens element refracts different wavelengths of a ray of light – its rainbow colours – at very slightly different angles. This results in the 'colour fringing' that reduces the sharpness of an image. LD elements are made from special glass materials with extremely low dispersion indices (i.e. the refraction of a ray of light into rainbow colours is extremely narrow). Thus they effectively compensate for chromatic aberration at the centre of the field (on axis), a particular problem at long focal lengths (the telephoto end of the zoom range), and for lateral chromatic aberration (toward the edges of the field) that often occurs at short (wideangle) focal lengths.
Although costly, LD glass materials result in clear, vivid image quality.
eBAND Coating
Advanced lens coating produces even sharper, crisper images
This new coating technique developed by Tamron deploys a nano-structured* layer with dimensions smaller than the wavelengths of visible rays of light. Called eBAND (extended Bandwidth & ANgular-Dependency), its ultra-low refractive index, combined with the sophisticated multiple-layer coatings underneath, yields significant anti-reflection properties, absolutely minimising flare and ghosting to deliver sharp, crisp images.
BBAR – Broad-Band Anti-Reflective coating
Cleaner, crisper images without flare or ghosting
Flare or ghosting can be detrimental to a decisive shot. In combination with the eBand Coating, BBAR (Broad-Band Anti-Reflection) dramatically improves anti-reflection efficiency to deliver flawless, crystal clear images even against harsh beams of sunlight.
Rounded diaphragm
Attention-grabbing blur effects at wider apertures
Use depth of field more creatively with spectacular but natural-looking background blur.
The rounded outline diaphragm of the lens is retained even when stopped down to f/5.6. Blur highlights in a photo reflect the shape of the aperture, and they are a much more prominent feature at wider apertures. Especially in higher-speed lens, this important optical design element results in more attractive, natural-looking images.
Model no.
A022
Focal length
150–600mm
Maximum aperture
f/5–6.3
Angle of view (diagonal)
16°25′ to 4°8′ (for full-frame format)
10°38′ to 2°40′ (for APS-C format)
Lens construction
21 elements in 13 groups
Minimum focus distance
2.2m (86.6 in.)
Maximum magnification ratio
1:3.9
Filter size
95mm
Length*
260.2mm (10.2 in.) Canon
257.7mm (10.1 in.) Nikon
Maximum diameter
108.4mm
Weight**
2,010g (70.9 oz) Canon
1,990g (70.2 oz) Nikon
Diaphragm blades
9 (rounded diaphragm)***
Minimum aperture
f/32–f/40
Stabilisation performance
4.5 stops (CIPA Standards Compliant) using VC Mode 3
For Canon: EOS 5D Mark III is used
For Nikon: D810 is used
Standard accessory
Lens hood, lens caps, lens case
Mounts available
Canon, Nikon, Sony****
Specifications, appearance, functionality, etc. may be changed without prior notice.
* Length is the distance from the front tip of the lens to the lens mount face.
** Weight includes the weight of detachable tripod mount.
*** The circular diaphragm stays almost perfectly circular up to two stops down from maximum aperture.
**** Sony mount model without VC.