SP 15-30
mm

F/2.8

Di VC USD
(Model A012)
Full-frame ultra wide-angle zoom with image stabilisation and ultrasonic AF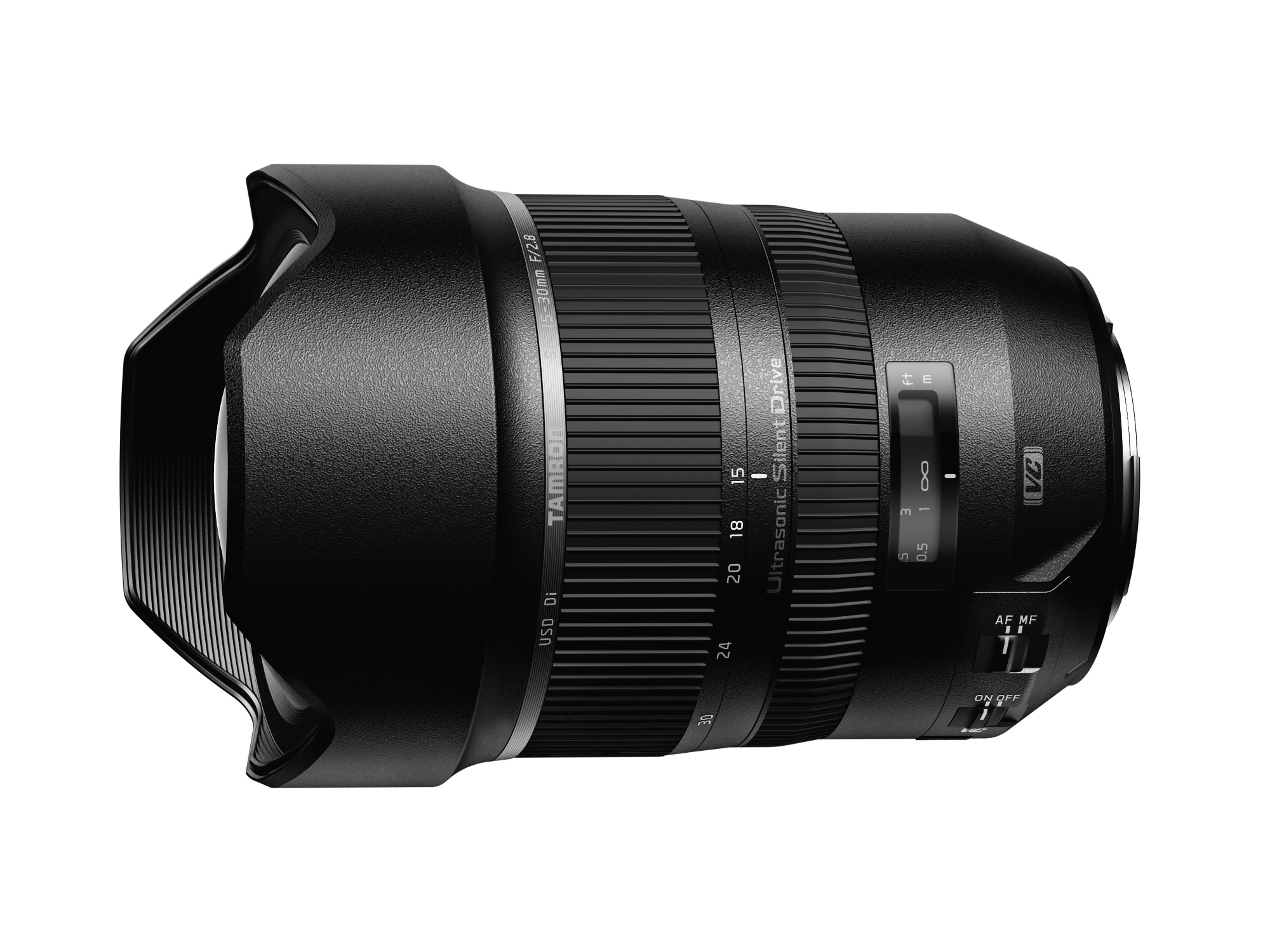 Uncompromising quality
Superb corner-to-corner image quality from an ultra wide-angle zoom
Tamron aims for the highest standards with the SP (Super Performance) lens series – and the 15-30mm F/2.8 full-frame ultra-wide-angle zoom is a worthy addition.
This high-performance zoom lens equals the performance of fixed focal length lenses from 15mm to 30mm, an unprecedented achievement made possible by the development of its unique XGM (eXpanded Glass Molded Aspherical) lens element that effectively controls aberrations and enhances sharpness. The Tamron 15-30mm is the first zoom* to combine such a wide range of coverage, a fast f/2.8 aperture and image stabilisation.
Superior new coating for wide-angle image quality
Tamron's proprietary eBAND (Extended Bandwidth & Angular-Dependency) Coating suppresses tangential reflections, while a new generation of BBAR (Broad-Band Anti-Reflection) Coating has been optimised for ultra-wide angles of view. Together, they effectively correct ghosting and flare, yielding vivid images of extraordinary clarity.
Vibration Compensation enhances photo opportunities
Responding to the demand for a wide-angle lens suited for handheld shooting at slow shutter speeds, Tamron has created the world's first f/2.8 ultra-wide-angle zoom lens with image stabilisation. The result is a lens able to capture sharp images even when shooting handheld under low light conditions.
Soft-focus backgrounds at wide-angle settings
The large f/2.8 aperture lets you soften the foreground or background to dramatically emphasise the subject. A minimum focusing distance of 0.28m over its entire range of focal lengths allows wide-macro effects.
Fluorine coated front element
As the large, convex front element cannot be protected by a filter, it has been given a fluorine coating that repels water and dirt, and makes it much easier to remove smudges as well.
Resistant to the elements
Moisture-resistant construction helps prevent moisture from penetrating the lens.
Ultrasonic Silent Drive for precise, quiet autofocus
The quiet high-torque USD motor ensures autofocusing with precision.
Super Performance series
Performance takes priority for superb image quality
This line of ultra-high-performance lenses is designed and manufactured to the exacting specifications demanded by professionals and others who require the highest possible image quality. The foremost priority is achieving superior performance parameters – high design standards take priority over cost constraints. As a result, Tamron SP lenses feature innovative designs that have established an enviable reputation for excellence amongst demanding photographers.
This lens features the gold metal ring that symbolises the SP series, and other design elements that boost its looks.
Vibration Compensation
Stabilises camera blur for sharp images in low light
If you're shooting handheld when light is low, especially with longer lenses, your camera's shutter speeds can extend to a point where the image may turn out blurred due to camera shake. Tamron's VC tracks this shake and neutralises it for sharper images without the inconvenience of a tripod or the artificiality of a flash, in much lower light.
Tamron's unique VC mechanism uses a proprietary actuator and algorithms to deliver an extremely stable viewfinder image with excellent tracking. The tri-axial system uses three driving coils to move internal optical components within the VC lens electromagnetically, based on signals originating from three ball bearings, made from either steel or ceramic. The VC lens elements are held in place only by contact with the balls, achieving smooth movement with minimal friction.
Tamron's original moving magnet system employed a heavy magnet positioned near the moving VC lens element. The improved VC reverses the positions of magnet and coil and attaches the VC optic to the coil. This moving coil is lighter than the magnet, and as this reduces the load on the drive system, both the VC unit and the lens are lighter and more compact.
* The Sony mount lens does not include VC, because the body of Sony digital SLR cameras includes image stabilisation functionality. The product name for Sony cameras is "SP 15-30mm F/2.8 Di USD" without the VC designation.
Ultrasonic Silent Drive
'Travelling waves' generate a fast, smooth AF movement
This extremely quiet motor is ideal for photography of events, weddings, theatre or musical performances, as well as crucial moments on the golf course – any situation where autofocus noise is obtrusive. Major improvements in autofocus response and tracking ability over standard DC motors make for instantaneous focusing and spontaneous shooting of rapidly moving subjects.
Tamron's USD works with the high-frequency ultrasonic vibrations that are produced by a ring called a 'stator'. Energy from the vibrations is used to rotate an attached metallic ring known as the 'rotor'. Piezoelectric ceramic is a material that produces ultrasonic vibrations when voltage of a specific frequency is applied is arranged in a ring formation on the stator. This electrode configuration of piezoelectric ceramic causes two ultrasonic vibrations to occur in the stator. By effectively combining these two ultrasonic vibrations, it is possible to convert the energy from the vibrations that produce simple motion into energy known as 'deflective travelling waves', which move around the circumference of the ring. The friction between these deflective travelling waves created on the metallic surface of the stator and the surface of the rotor produces force, causing the rotor to rotate. Attached to the rotor is the focusing lens, which is given a fast, smooth autofocus movement.
Moisture resistance adds protection
Moisture-resistant body construction helps prevent water from penetrating the lens, making it well suited ideal for travel and shooting outdoors.
Fluorine-coated front element
Since its large diameter and prominent convex profile prevents deployment of a protective filter, the front element of this lens has a fluorine coating that repels water and dirt, and makes it much easier to remove smudges as well.
Resistance to grime (in this case an oil-based felt marker): without (left) and with the fluorine coating
Integrated flower-shaped lens hood shields stray light
The integral flower-shaped hood matches the rectangular shape of the image sensor to most effectively block the interference of superfluous light rays entering from outside the borders of the image area, helping to ensure sharp, clear, flare-free images with crisp detail in the shadow areas
XGM eXpanded Glass Molded Aspherical
Corrects aberrations typical to wide-angle lenses
A large diameter XGM (eXpanded Glass Molded Aspherical) lens element is featured in the first lens group of a system that also includes several LD (Low Dispersion) elements in its 18-element, 13-group optical design. This combination effectively controls distortion and chromatic aberrations that typically affect wide-angle lenses.
Compared to a previous Molded-Glass Aspherical element (left), XGM has a larger aspherical surface.
ASL
Aspherical
Far superior image quality – while reducing lens size and weight
Tamron uses several hybrid aspherical lens elements in its lenses bearing the Aspherical designation. The benefits are two-fold: first, their non-spherical shapes virtually eliminate spherical aberration and image distortion. Second, as one hybrid aspherical lens element can take the place of multiple elements without compromising performance, they allow the lens to be much more compact.
As a result, these innovative optics have played a crucial role in delivering uniformly high image quality across all apertures and focal lengths of extraordinarily compact ultra-zoom lenses.
LD
Low Dispersion
Sharpens edges by reducing 'colour fringing'
Chromatic aberration occurs when a lens element refracts different wavelengths of a ray of light – its rainbow colours – at very slightly different angles. This results in the 'colour fringing' that reduces the sharpness of an image. LD elements are made from special glass materials with extremely low dispersion indices (i.e. the refraction of a ray of light into rainbow colours is extremely narrow). Thus they effectively compensate for chromatic aberration at the centre of the field (on axis), a particular problem at long focal lengths (the telephoto end of the zoom range), and for lateral chromatic aberration (toward the edges of the field) that often occurs at short (wideangle) focal lengths.
Although costly, LD glass materials result in clear, vivid image quality.
Rounded diaphragm
Attention-grabbing blur effects at wider apertures
Use depth of field more creatively with spectacular but natural-looking background blur.
The rounded outline diaphragm of the lens is retained even when stopped down to f/5.6. Blur highlights in a photo reflect the shape of the aperture, and they are a much more prominent feature at wider apertures. Especially in higher-speed lens, this important optical design element results in more attractive, natural-looking images.
eBAND Coating
Advanced lens coating produces even sharper, crisper images
This new coating technique developed by Tamron deploys a nano-structured* layer with dimensions smaller than the wavelengths of visible rays of light. Called eBAND (extended Bandwidth & ANgular-Dependency), its ultra-low refractive index, combined with the sophisticated multiple-layer coatings underneath, yields significant anti-reflection properties, absolutely minimising flare and ghosting to deliver sharp, crisp images.
*1nm = 1/1,000,000mm
BBAR
Broad-Band Anti-Reflective coating
Cleaner, crisper images without flare or ghosting
For the precision required by digital sensors, Tamron's BBAR (Broad-Band Anti Reflection) multilayer coatings reduce reflection into the lens elements, enhancing light transmission on both long and short wavelengths. Internal surface coatings are also applied on cemented surfaces of lens elements to make images sharper with better colour balance and reproduction.
Model no.
A012
Focal length
15-30mm
Maximum aperture
f/2.8
Angle of view (diagonal)
110° 32′ to 71° 35′ (full-frame 35mm format)
85° 52′ to 49° 54′ (for APS-C format)
Lens construction
18 elements in 13 groups, including:
3x Low Dispersion elements
2x Glass Molded Aspherical elements
1x Expanded Glass Molded Aspherical elements
Minimum focus distance
0.28m (11in.)
Maximum magnification ratio
1:5 (at f=30mm: MFD 0.28m)
Filter size
N/A
Length[1]
for Canon 145mm (5.7 in)*
for Nikon 142.5mm (5.6 in)*
Maximum diameter
φ98.4mm
Weight*
1,100g (38.8 oz)*
Diaphragm blades
9 (rounded diaphragm)[2]
Minimum aperture
f/22
Standard accessory
Integrated flower-shaped lens hood
Mounts available
Canon, Nikon, Sony[3]
Specifications, appearance, functionality, etc. may be changed without prior notice.
*Length and weight are based on figures for the Canon-mount lens and the Nikon-mount lens.
1 Length is the distance from the front tip of the lens to the lens mount face.
2 The circular diaphragm stays almost perfectly circular up to two stops down from maximum aperture.
3 The Sony mount version does not include VC since Sony digital SLR bodies incorporate built-in image stabilization functionality