AF70-300
mm

F/4-5.6

Di LD Macro 1:2
(Model A17 and A17N II for Nikon*)
Lightweight long-range zoom lens with 1:2 macro ability.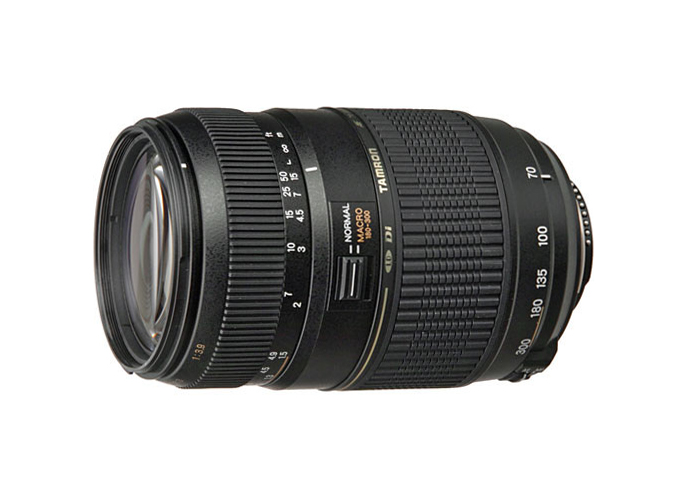 Lightweight telephoto zoom ideal for travel.
Set the standard.
Tamron's lightweight, compact, high-image-quality telephoto zoom lens with macro capability of 1:2 has improved multi-coating for optimised performance with digital SLR cameras as well as film cameras.
Flipping a macro switch in the focal length range of 180mm to 300mm obtains a maximum magnification ratio of 1:2 at an unsurpassed minimum focus distance of 95cm, enabling close-up shots of flowers, insects, and other objects that normally require the use of a specially designed macro lens.
Designed for optimum handling ease and portability and weighing only 458g, this lens offers the distant capture and foreshortening effects characteristic of the 300mm ultra-telephoto world. It's ideal for handheld shooting with full-frame and APS-C format SLRs.
*Now available with a built-in motor for Nikon, making it compatible with models such as the D40.
Improved lens coatings for digital SLR cameras
By employing multi-layer coatings on cemented surfaces of plural elements and new multi-layer coating technology on ordinary elements, ghosting and flare due to reflections that occur when light enters through the front element and reflections from the mirror-like surface of a digital image sensor are reduced to the absolute minimum.
Additionally, upgraded advanced quality control raises the level of resolution performance standards and prevents flare due to aberrations, resulting in a telephoto zoom lens suitable for photography with digital SLR cameras.
Macro of 1:2 in telephoto zoom range
Flipping a macro switch in the focal length range of 180mm to 300mm allows entry into the macro range, for photography as close as 95cm from the subject. In the macro range, one can take advantage of the telephoto effect and a maximum magnification ratio up to 1:2. (In normal shooting ranges, the minimum focus distance is 1.5m (59″).) In addition, since the focal length in the macro range spans from 180mm to 300mm, zooming can also be used to adjust composition.
Designed for use on both digital SLRs and 35mm film cameras
The ultra-long telephoto zoom covering up to 465mm equivalent can be used on a digital SLR camera, while the wide-end 70mm can be used with a conventional 35mm film SLR camera for portraits and other moderately mid-range shots.
Low Dispersion
Sharpens edges by reducing 'colour fringing'
Chromatic aberration occurs when a lens element refracts different wavelengths of a ray of light – its rainbow colours – at very slightly different angles. This results in the 'colour fringing' that reduces the sharpness of an image. LD elements are made from special glass materials with extremely low dispersion indices (i.e. the refraction of a ray of light into rainbow colours is extremely narrow). Thus they effectively compensate for chromatic aberration at the centre of the field (on axis), a particular problem at long focal lengths (the telephoto end of the zoom range), and for lateral chromatic aberration (toward the edges of the field) that often occurs at short (wideangle) focal lengths.
Although costly, LD glass materials result in clear, vivid image quality.
Model nos.
A17, A17N II for Nikon AF-S
Lens construction
13 elements in 9 groups
Angle of view
34°21′ to 8°15′
Type of zooming
Rotation
Diaphragm blade number
9
Minimum aperture
f/32
Minimum focus
1.5m (59 in.) in normal settings/ 0.95m (37.4″) in macro mode
(f=180mm-300mm range)
Macro mag. ratio
1:2 (at f=300mm MFD 0.95m)
Filter diameter
ø62
Weight*
435g (15.3oz)
Diameter x length*
ø76.6 x 116.5 mm (ø3.0 x 4.6 in.)
Supplied accessory
Lens hood
Mounts available
Canon, Sony (Konica Minolta), Nikon AF-S (Model A17N II), Pentax
*Values given are for Nikon mount.