18-270
mm

F/3.5-6.3

Di II VC PZD
(Model B008)
The world's lightest, smallest 15x zoom, with Piezo Drive autofocus and VC image stabilisation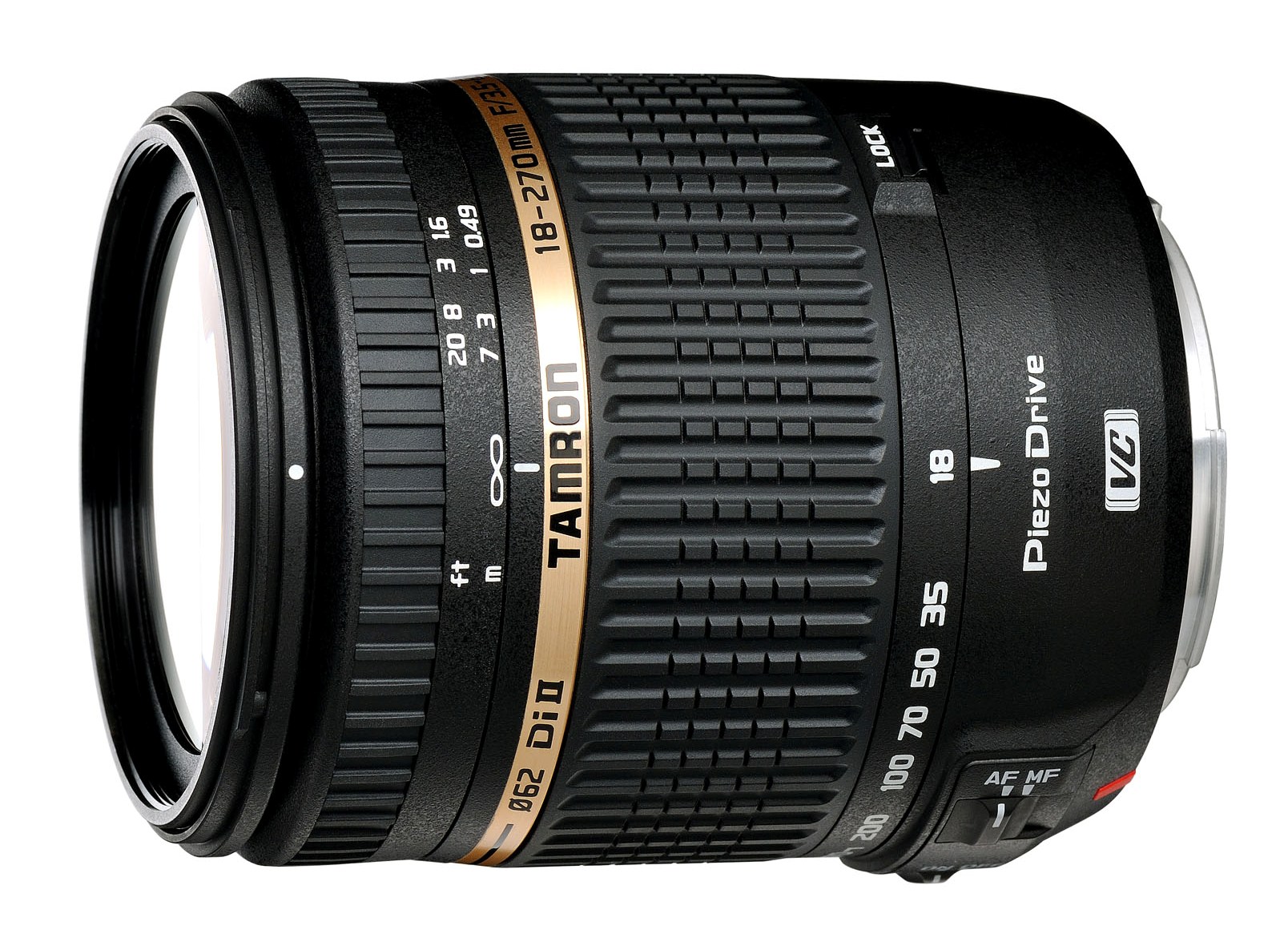 One lens. Every moment.
The world's lightest, smallest 15x zoom, with PZD autofocus and VC image stabilisation
In addition to being the most compact and lightest lens in the world* with 15x magnification, the Tamron 18-270mm high-power zoom lens boasts the PZD (Piezo Drive) internal autofocus drive, Tamron's first standing wave ultrasonic motor system. Angle performance is virtually guaranteed with an unshakable new** VC (Vibration Compensation. All that and with a 62mm filter diameter and weighing in at 450g, this lens is the cumulation of uncompromising research and development to make a lightweight, compact, all-in-one super zoom lens.
The trail-blazing PZD (Piezo Drive) delivers smooth, quick autofocus. Combined with VC (Vibration Compensation), this is a winning partnership delivering clear, stable shots even in low light or at the telephoto end. The overall lens size is reduced, easing your ability to capture clean, clear images of high resolution.
The result: express yourself without limits. Whether you're toting it to a casual picnic or an off-road mountain biking expedition, this is a high-powered zoom lens that's not only versatile but also light and compact. At the telephoto end, the 18-270mm is ideal for sports shots or when using distance to capture wildlife in habitat or natural expressions on subjects who normally be overly conscious of the camera. Whether on vacation or in your own back yard, the wide end gives you the tools to shoot expansive landscapes. Every angle for photographic expression and all in a lens that delivers sharp, clear photos.
And yet, measuring 88mm from mount face to the tip of the lens, and 74.4mm in diameter with a filter diameter of 62mm – and weighing in at just 450 grams – it's also a remarkably compact, highly portable lens.
* For SLR camera high-zoom-ratio lenses with 15x magnification capability as of December 2010.
** PZD (Piezo Drive) is a standing wave ultrasonic motor system developed by Tamron. The motor is faster and quieter than DC motors when the AF drive is operated, and compared with arc-type ultrasonic motors, it has an actuator that facilitates lens design and reduced size.
*For SLR camera high-zoom-ratio lenses with 15x magnification capability. Current as of December 2010. (Source: Tamron).
Vibration Compensation
Stabilises camera blur for sharp images in low light
If you're shooting handheld when light is low, especially with longer lenses, your camera's shutter speeds can extend to a point where the image may turn out blurred due to camera shake. Tamron's VC tracks this shake and neutralises it for sharper images without the inconvenience of a tripod or the artificiality of a flash, in much lower light.
Tamron's unique VC mechanism uses a proprietary actuator and algorithms to deliver an extremely stable viewfinder image with excellent tracking. The tri-axial system uses three driving coils to move internal optical components within the VC lens electromagnetically, based on signals originating from three ball bearings, made from either steel or ceramic. The VC lens elements are held in place only by contact with the balls, achieving smooth movement with minimal friction.
Tamron's original moving magnet system employed a heavy magnet positioned near the moving VC lens element. The improved VC reverses the positions of magnet and coil and attaches the VC optic to the coil. This moving coil is lighter than the magnet, and as this reduces the load on the drive system, both the VC unit and the lens are lighter and more compact.
Piezo Drive
Smaller, lighter, faster and highly accurate AF
An exclusive Tamron innovation, the Piezo Drive (PZD) is an advanced ultrasonic autofocus (AF) motor based on the latest piezoelectric technology – the standing wave principle. High-frequency voltage turns a ceramic piezoelectric element with a swiveling motion, causing the metal tip at the rotor's contact point to rotate elliptically, thereby turning the rotor to focus the lens swiftly, silently, and with great precision.
Standing wave ultrasonic motors like the one used in Tamron's innovative PZD have a number of advantages. They're smaller and lighter and also provide faster and quieter operation than DC motors for improved AF performance. Compared with their predecessors, their actuator system allows far greater flexibility in lens design, reducing the overall size and weight of the lens.
Minimum focus distance of 49cm over the zoom range, with macro capability to 1:3.8
Designed exclusively for APS-C sized digital SLR cameras, this all-in-one zoom covers every angle. Its minimum focal distance of 0.49m (19.3 in.) through the entire zoom range and macro capability to 1:3.8 allows you to enjoy serious, high-quality macro photography with astonishing convenience.
Low Dispersion
Sharpens edges by reducing 'colour fringing'
Chromatic aberration occurs when a lens element refracts different wavelengths of a ray of light – its rainbow colours – at very slightly different angles. This results in the 'colour fringing' that reduces the sharpness of an image. LD elements are made from special glass materials with extremely low dispersion indices (i.e. the refraction of a ray of light into rainbow colours is extremely narrow). Thus they effectively compensate for chromatic aberration at the centre of the field (on axis), a particular problem at long focal lengths (the telephoto end of the zoom range), and for lateral chromatic aberration (toward the edges of the field) that often occurs at short (wideangle) focal lengths.
Although costly, LD glass materials result in clear, vivid image quality.
AD
Anomalous Dispersion
Controls the dispersion of specific wavelengths of light
AD glass is a special type of optical glass that is used to achieve more precise control of chromatic aberrations, thereby enhancing overall imaging performance. Glass of this type provides an abnormally large partial dispersion ratio (amount of diffraction) for light of specific wavelength ranges (colours) within the visible spectrum. By combining AD glass having these special characteristics with elements made of normal glass having different dispersion characteristics, it is possible to control the dispersion factors of a specific wavelength.
This enhanced level of control results much lower levels of on-axis (central) chromatic aberration for telephoto lenses (or zooms used at telephoto settings) and a significant reduction of lateral (peripheral) chromatic aberration for wide-angle lenses (or zooms used at wideangle settings).
Like LD glass, AD glass material is costly but provides clear, vivid image quality.
ASL
Aspherical
Far superior image quality – while reducing lens size and weight
Tamron uses several hybrid aspherical lens elements in its lenses bearing the Aspherical designation. The benefits are two-fold: first, their non-spherical shapes virtually eliminate spherical aberration and image distortion. Second, as one hybrid aspherical lens element can take the place of multiple elements without compromising performance, they allow the lens to be much more compact.
As a result, these innovative optics have played a crucial role in delivering uniformly high image quality across all apertures and focal lengths of extraordinarily compact ultra-zoom lenses.
BBAR
Broad-Band Anti-Reflective coating
Cleaner, crisper images without flare or ghosting
BBAR (Broad-Band Anti-Reflection) coatings reduce the lens reflection and dispersion that cause ghosting and flare. The coatings enhance light transmission in both the short and long wavelength ranges, ensuring excellent performance in all photographic conditions. Additionally, internal surface coatings are applied to cemented surfaces of all lens elements to deliver sharp, high-contrast images and flawless colour reproduction.
Model no.
B008
Focal length
18-270mm (28-419mm equivalent)
Maximum aperture
f/3.5-6.3
Angles of view
Diagonal: 75°33′ – 5°55′
Horizontal: 65°36′ – 4°55′
Vertical: 46°21′ – 3°10′
Lens construction
16 elements in 13 groups
Minimum focus distance
0.49m (19.3 in.)
Maximum magnification ratio
1:3.8 (at f=270mm and MFD 0.49m)
Length from lens mount [1,2]
88mm (3.5 in.)
Filter diameter
62mm
Overall length [1,3]
96.4mm (3.8 in.)
Maximum diameter
74.4mm (2.9 in.)
Weight [1]
450g (15.9oz)
Diaphragm blades
7
Minimum aperture
f/22 (18mm) to f/40 (270mm)
Standard accessory
Flower-shaped Lens Hood
Mounts available
Nikon, Canon
1. Length, entire length and weight figures are for Nikon-mount lens.
2. The distance between the mount face and the tip of the lens.
3. Entire length is the distance between the front tip of the lens and the tip of the rear protrusion.
*Specifications, appearance, functionality, etc may be changed without prior notice.