28-75
mm

F/2.8

Di III VXD G2
(Model A063)
Great performance just got better.



Spectacular optical performance that inspires creativity
TAMRON's 2nd-generation high speed zoom lens optimized for the latest full-frame mirrorless cameras
Outstanding resolution and superb overall performance in a light weight and compact zoom lens. The 28-75mm F/2.8 Di III VXD G2 (Model A063) is a fast-aperture standard zoom lens for Sony E-mount full-frame mirrorless cameras. The lens is the successor to the popular 28-75mm F/2.8 Di III RXD (Model A036), the lens that flipped conventional thinking about standard zoom lenses upside down.
High definition and spectacular image quality are the key areas of advancements. The Model A063 features a redesigned optical system but maintains a size similar to its predecessor. The lens provides exceptionally good optical performance, edge-to-edge across the frame, throughout the entire zoom range, along with the soft, beautiful bokeh effects that are distinctive to fast-aperture lenses.
The AF drive is equipped with TAMRON's linear motor focus mechanism VXD (Voice-coil eXtreme-torque Drive) to enable high speed, high precision auto-focusing. Closeup shooting capabilities have also been improved and achieve an MOD (Minimum Object Distance) of 0.18m (7.1 in) at the 28mm wide end, and a maximum magnification ratio of 1:2.7.
The exciting 28-75mm F2.8 G2 is equipped with new, groundbreaking features that enable users to easily perform customization and firmware updates themselves. For example, users can reverse the direction of the focus ring during manual focus.
Additionally, TAMRON has adopted a new design with improved ergonomics and revised the coating of the lens exterior to improve scratch resistance. The filter size is 67mm, which is standard among TAMRON's fast-aperture zoom lens series and enables the sharing of lens caps, filters, and other accessories.
In addition to features such as Moisture-Resistant Construction and a protective Fluorine Coating, the lens supports various features built into Sony E-mount cameras, including Fast Hybrid AF, Eye AF and in-camera lens corrections (shading, chromatic aberration, distortion).
Taken altogether, the enhanced features create a potent, everyday zoom lens befitting the very latest generation of mirrorless cameras, a lens that draws you a giant step closer to maximizing your enjoyment of photography.
Outstanding high-resolution performance delivers an unprecedented photo experience
With the goal of producing outstanding high image quality befitting a new fast-aperture zoom lens, TAMRON redesigned the optical design in the new 28-75mm F2.8 G2 from scratch. The optical construction of the Model A063 deploys 17 elements in 15 groups. To minimize optical aberrations to an extreme degree, two LD (Low Dispersion) and GM (Glass Molded Aspherical) lens elements are used in an optimal arrangement. The lens demonstrates high resolving power to the edges of the frame at all focal lengths, while also offering the soft and beautiful bokeh that is distinctive to fast-aperture lenses. The image quality shows marked improvements over the 1st-generation Model A036. The 28-75mm F2.8 G2 retains the same light weight and compact size while achieving significant improvements to resolution and overall performance across the entire zoom range. The new standard zoom is ideal for a wide range of photographic genres from street photography and portraiture to landscapes and general family events like vacations and holidays.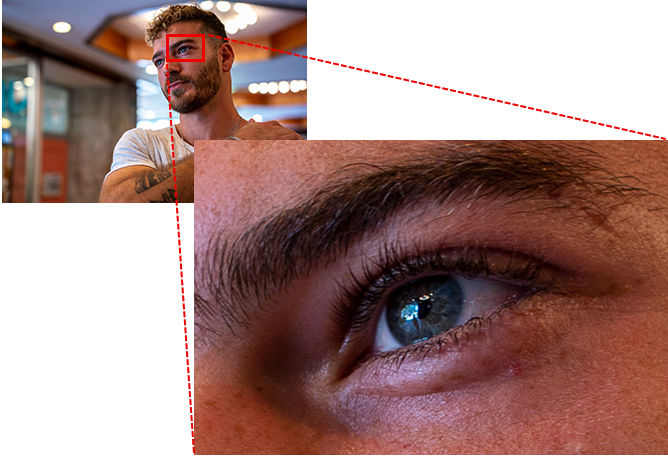 Camera: Sony α7R III Focal length: 64mm Exposure: F2.8 1/40sec ISO 100
Capture all the action with high-speed, high-precision AF
The AF drive system is equipped with VXD linear motor focus mechanism. VXD is exceptionally responsive and operates at high speed with great precision. The AF speed marks approximately twice1 as fast as the 1st-generation Model A036. With reliable, speedy focusing from the MOD to infinity and extremely good focus tracking, you are ready for those important moments even when photographing fast-moving subjects. Moreover, the AF drive motor is very quiet, making it ideal for still photography and videography when shooting in conditions where near-silence is required.
1 Compared to RXD (Rapid eXtra-silent stepping Drive) used in Model A036
Achieves an MOD of 0.18m (7.1 in) and maximum magnification ratio of 1:2.7
Close focusing has also been improved. The MOD of the 28-75mm F2.8 G2 is 0.18m (7.1 in) at the wide 28mm end, an improvement over the 1st-generation Model A036. This allows photographers to capture powerful shots that emphasize the perspective effects unique to wide-angle photography when shooting close-ups. The working distance becomes about 4.4cm (1.7 in) at the MOD. The maximum magnification ratio is 1:2.7. Get closer to any subject and enjoy the world of wide macro photography. In addition, at the telephoto end the MOD is 0.38m (15 in). The magnification ratio when using the longer 75mm focal length is 1:4.1, enabling close-up shooting with greater working distance.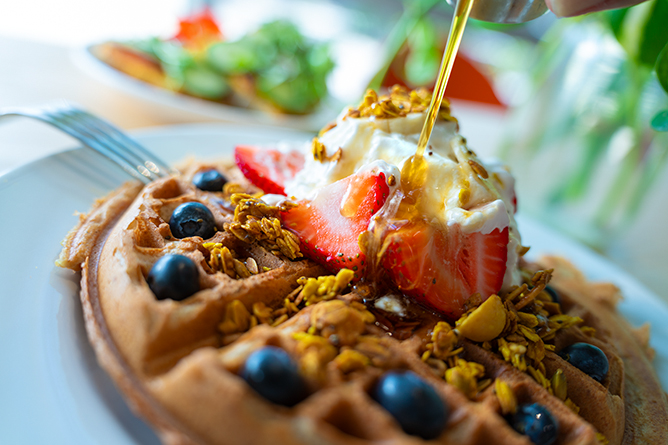 Camera: Sony α7R III Focal length: 28mm Exposure: F2.8 1/100sec ISO 100
Proprietary software tool TAMRON Lens Utility™ for lens function customization
The 2nd-generation Model A063 incorporates the new 'TAMRON Lens Utility' software originally and uniquely developed by TAMRON. TAMRON Lens Utility can be operated using a computer by connecting the lens from its Connector Port via the optional TAMRON Connection Cable2. Users can customize the functions and update the firmware through the lens. The personal customization gives flexible shooting options to match the shooting situation such as still photography or videography.
2 TAMRON Connection Cable (USB Type-A to Type-C) sold separately.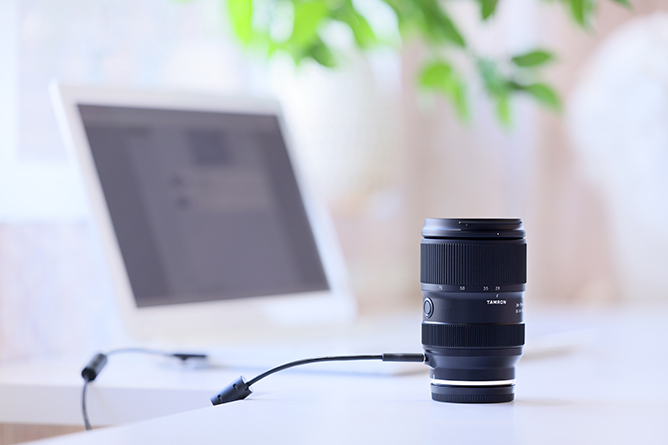 New 2nd-generation lens design improves both operation and ergonomics
The all-new 28-75mm F2.8 G2 incorporates a new design that becomes the hallmark of TAMRON lenses introduced in the future. In constant pursuit of improving products in every way possible, TAMRON considered customer feedback and reviewed each part and component of the lens down to the finest details. As a result, TAMRON has enhanced both the operation and tactile presentation of the lens.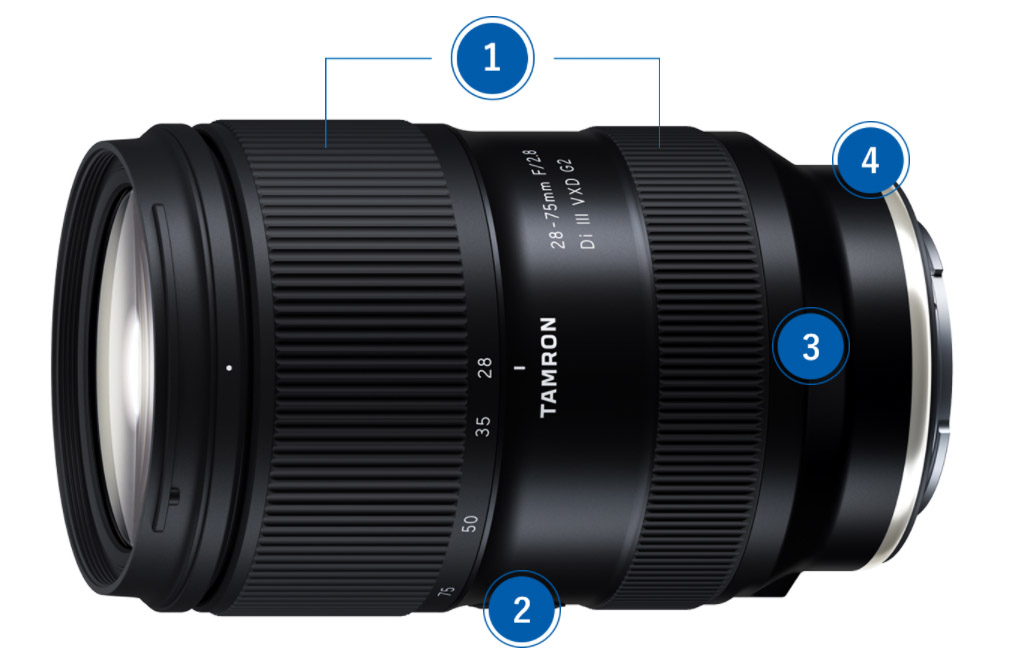 ① Zoom ring, focus ring
② New sculpted shape
③ Exterior has deep, luxurious black finish
④ Brand ring
Pursue a wide range of photography with a lineup of lenses that all have the same 67mm filter diameter
Great things come in compact packages! This lineup* includes other lenses that share the same filter diameter of 67mm. Lenses in this series feature small and light designs suitable for pairing with mirrorless cameras, and the filter diameter of each lens is the same 67mm. In addition to providing excellent portability when carrying multiple lenses, costly Polarizers, ND and other filters can be used interchangeably. Plus, the hassle of looking for different-sized lens caps when switching lenses has been eliminated. In addition to outstanding optical quality, you will enjoy the highest level of convenience across the entire lineup.
* The lineup of lenses that share the same filter diameter of 67mm for Sony E-mount full-frame mirrorless
Fast-aperture ultra wide-angle zoom lens
Fast-aperture standard zoom lens
All-in-one zoom lens
Fast-aperture telephoto zoom lens
Telephoto zoom lens
M1:2 fixed focal lens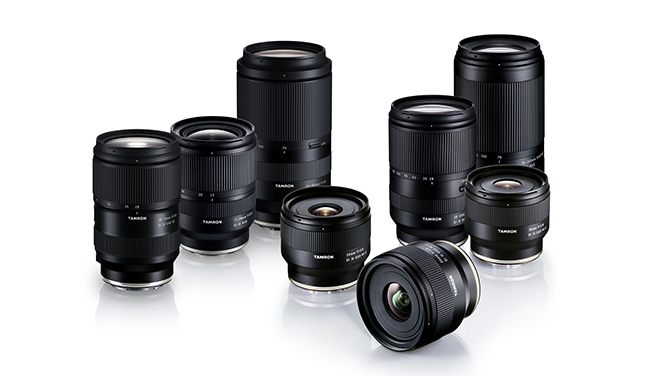 Built with Mirrorless in Mind
Fast Hybrid AF
Eye AF
Direct Manual Focus (DMF)
In-camera lens correction (shading, chromatic aberration, distortion)
* Features vary by camera. Please consult your camera's instruction manual for details.
* As of August, 2021
Specifications
Model
A063
Focal Length
28-75mm
Maximum Aperture
F2.8
Angle of View
(diagonal)
75°23′- 32°11′
(for full-frame mirrorless format)
Optical Construction
17 elements in 15 groups
Minimum Object Distance
0.18m (7.1 in) (WIDE) /
0.38m (15 in) (TELE)
Maximum Magnification Ratio
1:2.7 (WIDE) / 1:4.1 (TELE)
Filter Size
φ67mm
Maximum Diameter
φ75.8mm
Length*
117.6mm (4.6 in)
Weight
540g (19 oz)
Aperture Blades
9 (circular diaphragm)**
Minumum Aperture
F22
Standard Accessory
Flower-shaped hood, Lens caps
Mount
Sony E-mount
* Length is the distance from the front tip of the lens to the lens mount face.
** The circular diaphragm stays almost perfectly circular up to two stops down from maximum aperture.
Specifications, appearance, functionality, etc. are subject to change without prior notice.
This product is developed, manufactured and sold based on the specifications of E-mount which was disclosed by Sony Corporation under the license agreement with Sony Corporation.
Release Date
October 28th, 2021
MTF


Optical Construction (17 elements in 15 groups)